April 30, 2010
The fall of Saigon...35 years ago!
April 29, 2010
I have not been on this thing in a very long time. For all my FB buddies, goodbye and good riddens! Yes, that was a knock at you, Joel! It was fun while it lasted. Twitter is next on the chopping block! I don't mind the little trips to Long Island. You are guaranteed a seat when you start at the beginning of a route. The Jacquisha wig made its way back to Manhattan. Loan, it was so good to see you. Come back with your guy friend. KNT, your purse has not come in yet. I'll let you know when the delivery comes. Paul, how are those eyebrows? Are they neglected? I am to make corn bread stuffing this weekend for Joe and Meg's shindig. I need to get back to 135. You were right! Addison looks like a Japanese student on his way to elementary school. Poor guy needs to get his tonsils taken out. The twins entertain one another with screams. Someone should tape them. Wyatt and his auntie are local celebrities. Everyone is below 14th street! The Lady Antebellum song is addictive. Eddie will be back in New Orleans in no time.
April 10, 2010
The trannies were all out last night. They come in all shapes and sizes. It's time for sushi class tonight. Moving the car in the early morning can be tricky. keep your eye on the road. I did not run into any problems at the laundromat. The machines all lined up for me.
April 9, 2010
It's finally Friday! A few weeks ago, I remembered running through the aisles of Macy's to get to the ticket counter down in the cellar. It was crazy! I felt as though I was buying NKOTB tickets. I am never doing that again because when my fellow runners and I showed up at the ticket counter, there were around 20 people already in line. A couple hours later, I walked away with the last two seats together. I came back just in time for lunch. I skipped the buffet line and was reunited with the NYU folks. Korean food stinks! Yes, you are a HAPA and don't you forget that. Claudia was a huge help. She shredded all of my stuff and filed my business cards. I am a Chinese delivery boy today. Anyone want dumplings? I was in a trance last night for some reason.
April 8, 2010
Alexis, please go ahead and upgrade yourself to unlimited texting already. I enjoyed eating Mexican food in a run-down hood section of town. It wasn't really run-down. You would order those jalepeno poppers! "Modern Family" is funny. I managed to complete more than half of the crossword puzzle. The train going back to the city was 10 minutes late. I made it home 5 minutes past the intended time. I would have knocked on Apt #1, but I'm glad I didn't. Someone was busy. It is a small world considering the two dates merged at An Choi. Charlie, I still didn't get your gift yet. Paul forgot. Is it summer hiring season already? Chang, tell him to stop making those cameos. Addison's dad is the frog. We have good news from Tarrant County. I need one more phone call to get things moving along. I couldn't wake up this morning.
April 7, 2010
It's official...the apartment is very small. It is only 264 sq ft. Can you believe that? Now I know why the landlord never specified square footage on the lease. I am paying way too much for rent. Marc, you thought I came to my fiscal senses, huh? I skipped out on the bike ride last night because J wanted a 30 minute extension. I was able to finish my homework for this week. Lost was insane! If a catastrophe occurs, our lives are changed forever? That's difficult to swallow. Alexis, thank you for the Queens shuttle service tip. I forget how loud the a/c unit is in my bedroom. At least it blocks out the constant door slamming across the hall. Yes, I am busy. P, it sucks that the bosses are at a show tonight. However, I am to schlep all the way to L.I. for dinner. I don't mind. I have not been out there in a long time. The month of May is filling up again. Sorry, no Wonder Girls for me. Claritin is better than Zyrtec! It is 88 degrees today.
April 6, 2010
Happy Birthday, Addison! We are supposed to have a high of 88 degrees tomorrow and then the weather drops into the 60s for the weekend. Talk about a roller coaster! My nose have been relentless for the past two weeks. I get like this every year. It happens at the beginning of Spring and Fall. I accomplished a lot last night. The only thing I need to do is to edit before sending it off. Yes, I have a spontaneous bone. The bone told me to go biking today after work. It's an easy 30 minutes from my day of 24 hours. I will install the a/c window unit for the bedroom. ConEd keeps sending me those letters asking to come out and read my meter. I even called in the meter readings myself twice, but they continue to send me the letters. I continue to get charged a flat fee each month. When is the bakery opening up downstairs? Let's hope the bulldozer left the neighborhood when I return home.
April 5, 2010
A little bit of wine can put you over the edge. That's what happened on Friday night. Ed and I finished a bottle of Malbec. When it came time for the movie screening, the three from downstairs came up buzzed. Well, Kyvy wasn't buzzed but the other two were. People were snoring left and right during the movie. What happened to the Spa Castle diet? We threw it out the window. It took us an hour to get to Flushing...just in time for the free shuttle. Ali Gaga and Janice were already in the shuttle. L was running late, but they showed up not too far behind us. It was a good relaxing day at the spa. Everyone else came after lunch time. It was not as fun when others showed up. After eating Chinese food, we came back to C-town. I napped for a little bit. P and I went down to Vamos for drinks. We met everyone in HK then off to White Slab. I received a phone call about wonton soup from Diem Phuong at 3:30AM. Jacq drank way too much. After going crazy at Nam Son, we attended Easter mass. One altar boy was extremely restless. The other ones were well mannered. Mani/Pedi awaited us after mass. I ate the wonton soup and napped again. J and L cooked dinner. I slept with a pill of Benadryl.
April 2, 2010
To the twins and Addison, Happy Birthday! Di Chang has her bday coming up too. Should I deposit money into your bank account or mail you a check? Cleveland should have some Chase locations. KNT, you are now in the know! Charlie, Christian, Sarah, and Paul, hurry back to NY already! The great weather is waiting for you guys. It looks like Durango is moving on up with some Asian fusion tapas. This past week, some construction guy chopped off our network connection at the office. We were allowed to go home at noon time. I went home and took care of errands. It's laundry time tonight! "The Joy Luck Club" awaits me. I threw away the cherry blossom branches. Yes, they were causing my eyes to itch. I can't wait to try Jacq's homemade ice cream. That's right...move to Hanoi so I can bind your feet. There's on escaping the motherland! Loan, see you later this month! To those who fell for my April Fool's joke, hahaaa! Good one, huh? Happy Easter everyone!
March 4, 2010
Oklahoma City, Oklahoma
March 3, 2010
Here you go...you happy now, KNT? Thank you for the correction. Have you considered auditing as a new career path? Chang, good luck on your DC interview!
February 19, 2010
Washington, DC
February 7, 2010
Happy Birthday, Paul!
January 22, 2010
Oops! You found me! I've been scheming all along...right under your nose. Thanks for reminding me today. I've been busy since the new year. I totally forgot about this platform. Instead of the daily emails, how about I write on here for all to see?
January 1, 2010
Thuy, thank you again for having us over. The crawfish and side dishes were excellent. The corn was not too spicy. After Huong said it was spicy, my tongue started to burn. Chang and Sushant, you guys threw an amazing party. I had a lot of fun. Sorry we couldn't stay to go out with you guys. You know me...I gots to be home in bed at a certain time. It was good seeing everyone during my trip home. I don't know when I will be back again. Let's hope my flight doesn't get cancelled tomorrow because of the snow in New York. Jeannie, we are reunited once again! After a long hiatus, Thuy managed to get us reconnected. It's like a long lost child reunited with his mother after years apart. LOL Chang and I were the only ones under 40 years at the new year's eve mass. The Catholic Church seems to assign a holy day of obligation to every American holiday. It's a lame excuse to make us go to church on the days we have off from work. It's been a wonderful year.
December 30, 2009
Janet and I ate at Chun Lee. I haven't had their mandarin chicken in a very long time. We managed to eat less than half of what we ordered. The place still looks the same. It felt a bit more polished with newer chairs. The "Avatar" IMAX 3D screening was sold out. We got to the theater 55 minutes before the show. Thirty people were already in line. I came out of the movie feeling stressed. I cannot wait for the two sequels. James Cameron indicated that he will do two sequels if the first is successful. We will definitely see two more Avatar movies from Mr. Cameron. Get out of Iraq and Afghanistan already! Let them deal with their problems on their own. Leave the oil to the indigenous people. We should focus on alternative energy sources to ween ourselves from them. If we leave the entire region alone, they won't mess with us. Janet, I forgot to tell you I like the t-shirt! Carter, I hope you feel better soon. Carson, try to stay away from him.
December 29, 2009
Don't listen to Roxy. She's an idiot. Did she really attend Harvard? She has trouble written all over her. Kelly should fire Roxy already. Speaking of which, I like Kelly. If she has something to say, she'll say it. "Are you ok? Are you sure you're okay? Cause I don't think you are okay. You are too skinny. So are you okay? Are you sure?" Olivia is a freakin intern and should act like one. Erin does not need to speak to Olivia as if she is speaking to Joe Zee. Olivia should accept her place at the bottom of the totem pole. However, she's not used to being at the bottom because of her fancy silvery spoon upbringing. Can she quit her job or can Joe fire her already? Erin is good at what she does, but she shouldn't gossip to other people about how she hates Olivia. That's bad management. Vent to the people above you. Whitney loves to be in the middle of all that drama. She is a ditsy blond from LA. Stop dying that hair and be true to yourself. Revert to your brunette-self and use your brain for once. I miss my boo.
December 28, 2009
Is it me or were there way too many tween girls at the Gaga concert? Janet and her cousin were up close and personal with Gaga. They drank and ate in a school gymnasium prior to meeting with Gaga. They stood right in front of the stage. We sat on the upper level towards the side. The two shots at Landry's did not do justice. I even drank a glass of wine. Oh, let's not forget the shot of tequila at the venue. Still, I was not buzzed enough. No worries...I sang along during the concert. Melanie asked these two kids to stop smoking. Chang fell asleep before the actual performance. Sushant showed up just in time. Sorry, Alexis...I was too tired to go out afterwards. How was Avatar? I will finally watch it tomorrow. Gaga took too long to change between sets. She sang all of her songs, new and old. Yes, she is mentally ill. She is the sole leader for all you monsters out there.
December 27, 2009
I have a date with Lady Gaga tonight. Wish me luck on my second date with her.
December 26, 2009
I haven't been doing much since coming home. Everyone else has seen Avatar. I may need to go see it by myself. Yes, it's pretty pathetic. I can't really sleep in because my mom and dad wake up very early every morning, even on the weekends. They love to have their Vietnamese radio and television stations on 24/7. I thought I asked for a radio docking station. Instead, I have a docking station with no radio. I'm not sure the radio would work because there are two floors above me. They love their Saints down in New Orleans. UNO has to deal with more budget cuts. I ordered some college transcripts. UTD is awesome for not charging a fee. Everything is done online, including the consent to release student records. For UNO, I am to sign a consent form and fax it in. On top of the faxing, a fee is assessed. Louisiana just doesn't have the money to handle transcript requests like Texas does. I'm caught in a bad romance. According to Trung and his guests, my place is too small for four people. Of course it is! It's way too small for one person. However, I can't give up the convenience of pho and banh mi right at my door step. Paris Sandwich opened its second location on Grand St. between Mott and Elizabeth. I was always too lazy to walk past Hester to get to Paris Sandwich. If I can add something to the apartment, I would want a stackable washer and dryer.
December 25, 2009
Merry freakin Christmas, everyone! The kid in "Up" is actually Asian. I wondered whether his black hair and almond shaped eyes were a coincidence. I looked online and confirmed that the kid actor who lend his voice is, in fact, a Japanese American. The overachieving wilderness scout had to be Asian. In other news, Christmas morning mass was more like an anti-abortion rally than an annual celebration of Christ's birthday. The priest would not let up. He talked about how abortion is wrong and how the current president approved further research in stem cells. I was sitting on the edge of my seat and wanted to walk out. I couldn't because my parents sat right next to me. Di Chang and I babysat the boys while their parents watched "Avatar". I got almost everything on my wish list. The jeans are way too big for my scrawny ass. I now have a docking station for the iphone. Someone jumped over the barricade and knocked the Pope down. A winter blizzard prevented many Americans from traveling home for the holiday. I love my boat shoes.
December 24, 2009
I visited my aunt and cousin in New Orleans East. My cousin thinks we are too old to be cool for Lady Gaga. She laughed when we told her we are seeing Gaga this Sunday. Thao, congratulations on getting that partial scholarship to Tulane! Do some more work to get that full scholarship! I am listening to Vietnamese radio as I am typing this entry. According to my two aunts, my parents, and Chang, I am skinny. I am to eat more fatty New Orleans food so I can be fat again. Hoa, it was good catching up via texting. Lulu is a stripper's name. Your mom named her Lulu for a reason I tell ya. Carson and Carter are super good. They don't need anybody messing with them. As long as you feed them and let them sleep whenever they want, they won't get cranky. Sushant never accepted my friend request. I am going to bug him about it. Addison fell asleep while waiting for Di Chang. He sat in the backseat as we went to pick up Di Chang from the airport. He was talking for a few minutes and then stopped. I then told him to take a nap before Di Chang arrives. I didn't hear a response from him. I turned around and noticed that he was already sleeping. He went back to sleep after picking up his aunt. The twins go to sleep at 6PM and wake up at 5AM this next morning. I need to slow down when driving around. I am super aggressive. I can't stand slow drivers. Did I tell you I hate driving? Paul, stay out of trouble in OKC! Jacq, have fun on your BFF date in Palm Springs. I am super jealous! KNT, those bastards better reimburse you for the car rental. T Dang and Mr. Shum, welcome back to Looseeana! Kyvy, have fun in DR! Loan, stay warm in NM! Cass, try not to kill any more piglets in PA! Ba Xa oi, time to decompress in MawnTreeAll before coming back to Hoa Ky! Trung, try not to leave leftover fatty foods in my fridge! hahahaaa. Tino, have fun ringing in the new year in Paris! Mr. Infante, hopefully you will make it back home in time for midnight mass! Ngoc, we need to schedule a play date with Posey! To all my Dallas buds, have fun in the snow! Mel, stop stressing and take one thing at a time. We can only do so much. Eddie, we are sending you well wishes and happy thoughts all the way to Plainview! Happy Merry Christmas Eve!
December 21, 2009
As you can see, I am back in New Orleans. I have managed to eat four bowls of bun rieu over a period of two days. I am heating up another bowl as we speak. I was lucky enough to fly out ahead of the blizzard. As we were boarding the plane, they rushed us into our seats so we could have an on-time departure. We left right on the dot and landed on time. Back in New York, people talked about the lovely snow and how it accumulated in such a short period. All that lovely dust turns into slush. I'll come back for the next snowstorm of the season. Let's hope it happens during the work week so we can have snow days! My secret santa got me two cookbooks. Agnes walked away with a magnified vanity mirror. She was not a happy camper. I think everyone else like their gifts. Ratalie won. Too bad for Russell even if he played the game like no other person. The next guy or gal wins in the end. I shipped Carrie's table cloth thing. I dropped off Addison at school. I turned onto the wrong street. He showed me the correct street.
December 19, 2009
New Orleans, Louisiana
December 16, 2009
Apparently we cannot agree on the trip to Plainview. The airfare has increased overnight. Mom says to stay home and go another time. I don't mind driving 15 hours each way. I need someone to keep me company while in the car. I don't know if I can be in the car for 15 hours with you know who. I would go crazy with the complete silence. So I'm fun when I go out? I thought I was boring all around. Good to know I have a fun side. Gaga is blowing my mind...well more like brain washing all of us. Janet, are we all set for Sunday night at the Plaza Hotel? I can't wait. It is blistering cold today. I am to watch and listen as Ms. Berger recites a story in Alphabet City. After storytelling, it's down to Chinatown for pho. I am taking my laptop home with me. Apparently, I have work to do to meet a Jan. 6th deadline. I gave my dentist $200 to clean my teeth and insert two new fillings. I'm not sure if "insert" is the correct verb to describe getting new fillings. We went back and forth about my $50 deductible. He wanted to apply the deductible towards my free teeth cleaning. I told him you can't because it's free for me. Whatever you decide with Metlife is between you guys. I'm not sure what the $200 entails. I am to get a statement in the mail. I am over it. How can I win the lottery if I don't even play it?
December 13, 2009
Dinner on Friday night went well. Dr. Sharma crashed our cocktail and appetizer hour with champagne and shiraz. I don't remember that last time I laughed so much in one night. "Drink up, bitch!" You guys are the best! We cleaned up the apartment, packed up the folding chairs and table, moved the car, and washed the dishes. I woke up quite late the next morning. After shopping around Soho for last minute gifts, I washed my clothes. I completed a couple other tasks before leaving for the pub crawl. We made it all the way to the west side. Half of the group left at the fourth bar. At the fifth one, we danced the night away. lol We went home after the sixth bar. It was getting quite late. I ate pho with Lara and chilled out at the apt. Thank you for the digital picture frame! If we can get the music to work, it will be perfect. I bought some stuff from the Christmas wish list. I paid a couple bills. I have no more money and it's not even Christmas yet. Jacq is still drunk, yet she is cooking for us.
December 10, 2009
I'm done with all my Christmas shopping. If you didn't get anything from me or won't get anything from me within the next two weeks, you are crap out of luck. Sorry! I am on a budget like everyone else. The recession is taking a toll on my spending. It's the Met Opera tonight!
December 9, 2009
It will rain all day today. I had planned on walking to work, but flaked out. I took the train instead. I stopped by The Food Emporium but did not see anything I wanted for lunch. I also stopped by the local deli. The canned soups looked tempting, but I walked out empty handed. Gene is running late, but we are to start the meeting without him. Anh Linh and I ate at the local Korean place down the street...three beers for the price of two! I ate the usual kimchi fried rice. KNT, it was delicious as usual. Uniqlo's heattech long johns are more like leggings for men. They only difference is the pouch we get as opposed to no pouch for the ladies. Gaga met the Queen, but she didn't curtsy. She bowed and shook the Queen's hand. Tiger Woods and nine other ladies...talk about beaucoup extra marital affairs! His Swedish wife wants to stay married for at least 10 years because her pre-nup would allow her to walk away with at least $20 million. Let him sleep around and stay at a mansion nearby on your own. Wait another five years and collect your award then. Yay!
December 8, 2009
Happy Birthday, Chi Chinh! I'm glad you guys like the cards. Cassandra is finally back in NY where she belongs. Miami may have great weather but they can never keep Cass for too long. Anh Linh is sleeping on my couch. It's about time he made his way down to NY. What took you so long? I kept coughing last night. I hope I didn't get it from Trung. I shouldn't have hugged him goodbye. Next time, it will be a pat on the shoulder...from a distance of course. KNT, sorry I didn't say hello last night. I had to go straight to Lashes to discuss some important things such as what is on the menu for Friday night. He slipped and told me who he has for the gift exchange. Cass and I told one another without even hesitating. Ba Noi, I really like the polaroid pictures. It's time to download that app. I need to add more air to my tires. Riding my bike down Broadway was definitely an obstacle course. I maneuvered around standing cars, fast moving trucks, gigantic buses, slow walking tourists, and fast moving locals. I'll get the hang of it over time. I miss the slow pace of 3rd Ave/Bowery. T. Dang and I went down to Uniqlo to pick up some on-sale goods. She left the store empty handed. What's on sale today?...high tech long johns and leggings! I hate being the first person to use the copier. The machine has to warm up, which could take minutes. I don't have time to be patient.
December 5, 2009
I am typing from the new 17" macbook pro. I can barely see what I am typing because the screen is huge. Somehow, they magnified everything. We do not want general admission because it would require us to stand. I'm already short. I do not agree with Lashes' playlist.
December 4, 2009
This week went by pretty fast. Fahim is on his way. Joe is also on his way from Midtown. Fahim cannot do subways. Paul is driving in from Long Island. I think that's about it for tonight. The new janitor is nice after all. He talks more than Felix. I had to pretend someone was calling me to get away. Don't text while driving. Someone died on the expressway today. They think it's because of texting. I like my long john's. We are getting snow tomorrow night. Finally! Happy Friday! KNT, come on back and visit us already! Jacq, it's like...why are you so obsessed with me? Do I need to water the Christmas flower? I am not great with plants. I keep knocking the Chinese statue off. My crazy glue dried up.
December 3, 2009
Beyonce, Taylor Swift, and Lady Gaga lead the grammy nominations. It's really happening! I am leaving this basement. Instead of baking a chicken from scratch, I warmed up a rotisserie chicken. I made a spinach salad from scratch. Wash your spinach! We did not finish the wine. Thank you to Ba Noi for hooking us up with bacon, balsamic vinegar, and olive oil. I added salt, pepper, and sugar. I came back down to drop off a bowl and noticed they were eating spaghetti. I will attempt to make it next week. I gave my apartment keys to Selena's nephew's wife. The person then handed off my keys to Selena's son. Apartment #6 better stop complaining after today. I want my keys back. I waited in line at Uniqlo for close to 30 minutes to get a price adjustment. Because of the money I saved, I bought another shirt. I am to return today to pick up my hemmed up pants. I am too short to wear the length they have for the masses.
December 2, 2009
I could not stay awake to watch "the hills" finale. Since I acquired cable television, my viewing time has not even increased. I stick to my local stations and Bravo. I can only take so many repeats of the NJ and OC housewives episodes. I am trying to convert Ms. Dang into becoming a gaga fan. Alejandro, hurry back already so we can do a sing off. Susan, a baking party is on my list for next year. You will be first in line for sure. Typing in caps implies that you are yelling at the person. DON'T DO IT UNLESS YOU WANT TO SCREAM! Tiger Woods is cheating on his wife. We all know it. We have three more days in the basement and then we are off to the 4th floor of a real office building...well more like a loft.
December 1, 2009
Pho Bang is pretty much a fast food restaurant. They brought out our food within two minutes. When going to a pho restaurant, order pho because it's the fastest item on the menu. If you order bun or rice dishes, it takes more time to prepare the food. To make pho, drop the pho noodles into boiling water for a few seconds. Top them off with onions, meat, and the broth. You're done! We paid a visit to Apt 1. The living room looks quite nice. I cannot wait to see the final product. I e-mailed Eddie. I went crazy at Duane Reade with Christmas cards. They had a huge selection. I have a few more points before I get the $5 coupon. I got rid of all the other club cards. The only ones on my key chain are from Duane Reade and an arts supply store near campus. I don't know why I hold onto the arts supply card. I was restless. Do not eat a big bowl of che before going to sleep. I could not sleep all night.
November 30, 2009
How about I try to write a little something like I used to in the past? According to the twins' grandma, they are crawling around all over the place. The parents only have one playpen. They are getting another one to keep the boys separated and secured in one spot. They can fall asleep in the playpen or stand up right next to the railing. I managed to pick up some fabrics for my mom. I tried getting black ones over the weekend but could not find any. Jacqueline, Chi Tam, and I went to church on Baxter St. for the first time in a very long time. We met with the priest down in the basement after mass as if we were waiting to speak with him about taking pre-marriage classes. I acted as an interpreter for Ba Noi. I have to say I was a bit disappointed. Apparently, Cha Han spoke very "bac ky". I'm used to that I guess. Instead of paying hundreds of dollars for remote desktop software, Kerry managed to find one free. Other than the 1-second delay, it's as if I'm sitting at my desk. We make our move up to Union Square this Friday. No more basements! yay! Khoi, keep your head up! Squid Lady, don't work too hard. Welcome back, Paulie Paul! I will be with Nast! in the general admission section. Booo! Hooo! Addison, I can't wait for you to ask me all about everything! We shall continue our conversation later in December. It is getting quite cold. Those stupid kids upstairs cannot stay still. Oh, and they seem to be banging human meat at all hours of the day and night. Yes, the banging continues on and on. Caught in a bad romance I tell ya!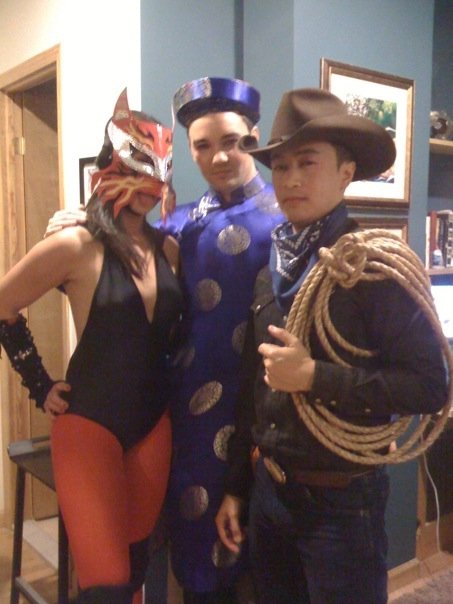 October 24, 2009
Dallas/Fort Worth, Texas
September 26, 2009
Turks & Caicos Islands
September 11, 2009
Los Angeles and Orange County, CA
September 5, 2009
Hamden, Connecticut
August 14, 2009
New Paltz, Woodstock, Hurley (detour), and Rhinebeck, NY
July 24, 2009
Hershey, Pennsylvania
July 18, 2009
Governors Island, Sands Point, and Port Washington, NY
July 10, 2009
Thank God it's Friday! This is my first weekend with no real obligations other than to do some errands for my mom, meet up with Alex for lunch, and finish painting the bedroom. I plan to pick up that thick book sitting on my bookshelf. I have read a couple hundred pages, but have about 800 more to finish. Damn Oprah! She got me hooked. The film festival to take place later this month is only screening movies for one weekend. Unfortunately, I will not be in town to take in all the festivities. Congratulations Dean Nguyen! Addison eats "do nhau" like his dad. The twins continue to sleep all day as if they don't care about anyone else. Actually, they don't. They eat, sleep, poop, eat, and sleep again. When I return in December, they better be active and ready to play. I like correcting KNT's typos. She does the same to me. I dreamed of boarding Air Canada last night. We didn't even finish "27 Dresses". Vietnamese food for two nights in a row is not so bad. Don't throw away leftovers. Eat them all up at the table or take them home. Champagne on a Wednesday evening up on the rooftop was lovely. LOL
July 6, 2009
KNT, darnit...you found me on this thing. I thought I could sneak a few words here and there without anyone knowing. You are good at snooping. So am I. I do not want to be back at work. The 3-day weekend seemed a bit longer than the normal 3-day weekend. I enjoyed the 1 hour flight coming back to Etats-Unis. I ran into Kevin and his wife on the flight back. They also went away for the weekend. I guess I shouldn't feel guilty about not staying in town to view American fireworks versus the Australian one. Berri-UQAM!
July 2, 2009
Khoi sort of inspired me to write on this thing again. I can't believe she's writing a haiku and posting a picture each day. I can't say I will write something on a daily basis. I'll get back into the swing of things by writing whenever and whatever comes to me. Yes, I am unpatriotic for leaving the country during our country's birthday. At least I am here for Ba Noi's birthday. That's all that matters. Chang, have fun at the apartment and please leave the toilet seat up. Lashes, it's time to get some of that color again. Mel, have fun dancing with the boys. Those cameras won't stop flashing!