August 31, 2010
:-)
August 26, 2010
Looks like I won't make it to dinner tonight. Chi Tam asked for some extra muscles. I stopped by Uniqlo to pick up a couple things. I was already in bed when Henrietta called. They were in the neighborhood at their fancy twitter events. Rafael ate his vegan imitation meat dish while Henrietta gobbled down Cass's blueberry pie and cheese. So I did it. I had to get it out of my system. No need to respond. It was a monologue of some sort. Katrina happened five years ago today. GTD or GTL...which one are you? Yes, those are your only choices. I am signing off for the next few days.
August 25, 2010
What do I get for sleeping in late? I get to walk with my newly pressed pants in the nasty rain. There goes the crease I paid for. What the heck? Nam Son was shut down temporarily because of a health inspection. We detoured to its sister restaurant, Thai Son. We skipped the line because of Anh Binh's VIP status. It was his "birthday". On our walk home, we chose Mulberry St. for its scenic appeal. My new favorite cake is lemon with coconut frosting. Surprisingly, the lemon cake was very subtle. I woke up at 5:30AM and stayed up for an hour before going back to sleep. Going back to sleep in the morning is like an afternoon nap. You feel sort of refreshed. So we all compared notes and figured those who cried during the movie are those who were dumped. Those who dumped did not shed a tear. I finally got a chance to eat Cass's blueberry pie. It was an excellent snack before dinner. Some scandalous drama is going down in Cleveland. Addison vacuums the big house while his parents are away. BraceFace aka MetalJacket, bring it on!
August 24, 2010
I gave in and let it out when they danced to Neil Young's "Harvest Moon". Madaloana, it's on now! No one else replied to me. I wonder why. He has resurrected from the ashes. The M103 showed up three minutes early. Luckily we did not walk home. It was cold last night. I even turned off the a/c for the first time since summer began. I left the windows open before I left today. KNT, it's been crazy. I am available next week. Don't give up on me yet. Henrietta was cheering for Mexico and rightfully so. I keep forgetting to pack Cass's blueberry pie. Half of it remains in my fridge. Kyvy oi! Welcome back to civilization! Monday came and left.
August 23, 2010
Summer is coming to a close much like a bar turning on its lights to kick everyone out. I haven't seen lights turned on at a bar or club since my days in Dallas. The bars close at 2AM in Dallas. I was so used to seeing lights getting turned on, but it doesn't really happen here in NY. I switched out the fancy chair for a simple non-rolling chair to support my aching lower back. KNT, Doughnut Plant will be closed when you are here for Labor Day. They will be closed for a week to allow employees to take their vacations. The twins went to church for the first time. They won't be coming back anytime soon. If you want free salad and dessert, allow the waiter to move you to another table. For breakfast, I am having two thick slices of Danish bread and thach. Instead of getting high tops and caps, we detoured for doughnuts and the Hester Street Market. Next time, how about skipping food in a restaurant and going straight to the market for food. On my way home, I stopped by an open house on Hester and Ludlow. The interior looked just like an apartment building in China or any other Asian country. You have marble tiles every where, including on the walls. The pricing was okay but the whole building felt FOBish.
August 22, 2010
Tdanger, I cannot hang like you! Those last few shots killed me. I zigzagged home like a dirty drunk. It was insane. I should have cabbed it home. I woke up after 10AM. I have never slept in this late in a very long time. I am getting old. These "wild" nights only come once in a blue moon.
August 21, 2010
Sold to the first bidder! Apparently, he bought it for his wife. Some say he bought it from me and will resell it at a higher price. Well, I broke even so that's all that matters. There's one button that will erase all of your data. I finished my usual laundry and picked up dry cleaning for the week. I hopped in the shower and off to dinner at An Choi. Jacq wants the guest list now. Sheesh, it's more than a month away. The Nguyen sisters are coming in a couple weeks. Yay! I made it back home to make thach for today's housewarming. TD convinced me to buy a candle from Anthropologie. I'm not big on scented candles or any kind of candle for that matter. I biked over to Brooklyn for the first time. Eleeeseeia lives 15 minutes away by bike. We made one loop in Prospect Park and picnicked on "the quad" under a shaded tree. We were surrounded by strollers. Elicia's ovary was hurting. I left her at Dekalb and I biked back across the river. The gym finally opened. I stopped by Soho's Sunrise Mart. I don't need Danish bread but when I saw it, I could not resist. Panya's Danish bread is the best! They wouldn't slice the bread for me. I am sweating as we speak. I'm not a fan of the snobby British lady from the DC housewives.
August 20, 2010
I thought I could go back to 10 Astor Place only to find out that I must return to 838 Broadway. All this shuffling around is getting old. You think you are done with one thing, but it doesn't really finish until all the moving parts align. Happy Birthday, Lara! I met up with Jacq after work for a Q&A session. I rushed out of the session to pick up my phone. I also picked up some accessories of which one was free for some reason. I was "on time" for Lara's dinner thinking it was for 9PM. I finally got to see Jenn again. This was only our second meeting and it felt like ages. Instead of staying in the city during the first week of November, I will be in Cleveland for God knows what. Dat and I agreed that walking home from a late night is definitely a perk. I made a quick phone call right before hopping into bed.
August 19, 2010
It began since last Tuesday. This string of debauchery must come to an end. I am starting to feel on edge. Did I really get a text from Joel? Did he reincarnate from wherever he was? Good to know you are alive and well. Try not to pick up that crazy accent when you're up in Viking country. Nate, I have not forgotten about you. I ate my first bowl of bun bo hue last night. Dat served the boneless version for me. It was very good. All other bowls will be compared against Dat's. A. Binh made this crazy fruit salad with tapioca balls. It was very refreshing after sweating to bun bo hue. Today ends my roommate reign. She leaves later tonight. I haven't been keeping up with the news lately other than what's been happening around me. Chi Chinh and her "OMG...I'm already nervous!"
August 18, 2010
It's hump day. Bre and I don't need to remind each other. We have our calendars that we live by. I should have gotten the turkey burger. The veggie one was okay. The drinks did nothing to our state of mind. We stopped by a local pub for $4 Amstel Lights. That's when I received 10 text messages from Mel. It is so on now! We are going to have a throw down in late September...for sure. It will finally be over and done. This has been dragging on way too long. We walked up to the third mezzanine after going downstairs for a couple Coronas. Yes, somehow the night turned into a drinking binge. MGMT rocked it. My favorite was definitely "Electric Feel". We were asked to switch seats only to find two people standing in front of us for most of the time. They finally sat down. Bre should have taken the BD down to 42nd. I walked home to Ba Noi on my couch. After a shouting match on my part, I fell asleep. Yes, I can see you, KNT. Hello from New York! Chang, quit your crying over the boys and get to work already.
August 17, 2010
It's not even 8:15AM and I am already working. Both gyms pretty much closed down all this week. I am expected to gain some weight. I am thinking a good ten pounds will be added to my body...not the good kind either. Lara and I ate a good meal at An Choi. We managed to finish a bottle of proseco. She walked me back to my stoop. Chang managed to convince all of us to go see the new Julia Roberts movie. Bring your tissues! The kids didn't really like my jello. Sophie didn't like it but kept eating it. I came home to a full house and was told it was a "very good explanation". Lunch at Zaiya turned into a ramen meal next door. The humidity still lingers like a bad romance. When will September get here?
August 16, 2010
I skipped out on Harlem's soul food and biking on the West Side because of Current TV. Those documentaries made me stay in all day. I did step out to pick up ingredients for granola bars. That reminds me...I forgot them at home. I was looking forward to eating some for breakfast. It was family dinner again. Last night's meal took place a block away at a Malaysian restaurant. I keep thinking nan is this flaky, airy pancake you eat with this curry dipping sauce. Kramen, it looks like I cannot join you guys on Thursday after all. The thing moved to 7PM and it's a school night. Perhaps we can hook up at some point this weekend if you and your gf are still in town. I didn't even get to hug Sophie goodbye. Lara, are we in like Nguyen?
August 15, 2010
Panna II, Spitzer's, White Slab, Happy Ending, Home Sweet Home...disaster!
August 14, 2010
I completed all my errands right before 7PM. I even made thach for the little ones downstairs. They are definitely precious. It was good to finally meet the in-laws. Henry and I wanted a bit too much pizza. I took some home. After checking things out online, we sat on the stoop with a couple beers. I barely see any Chinese people in the building any more. What the heck is going on? She is kicking them out and getting those market rent tenants to move in. KNT, awesome job on the zip lining thing. Keep me posted on your other publicity stunts. We poured some beer on the ground for Rafael. We met up with Cass along Bowery. After a couple drinks, we bid farewell and hopped on the F train to the west side. We cabbed back to my place so I can tuck Jacq into bed. Henry walked up to Union Square. I don't know why I didn't mention the 6 train. I woke up with a slight headache. Stay in or do the summer streets at 8AM? Sucia!
August 13, 2010
Chi Tam and I went for sliders and fries. I think I am done with junk food for awhile. You get this icky feeling that won't go away after eating slimy food. As I waited for her to get outside of yoga class, I had an avocado shake and corn on the cob. Almost giving up on a bar with happy hour specials, we found one near the restaurant. Everyone wanted to surprise us by showing up at the intended bar, but we were no-shows. The Indian restaurant reminded me of the crazy scene in "Along Came Polly". You had dangling Christmas lights and red pepper ornaments hanging from the ceiling. It was Jacq's birthday. The waiter sang and danced for her. The waiter gave his FB name to Ali. We were rushed out of there for another big party. Jacq carried an open bottle of rose on our walk home. I slept like a baby.
August 12, 2010
At lunch yesterday, Agnes announced her disappointment that summer is coming to an end. I thought the entire table would agree with her. However, we all agreed that this summer needs to end already because it's been way too hot and humid. We are ready for some cool fall weather. I prefer a snowstorm over a hot, humid day. With snowstorms, you can bundle up and there's a chance for a "snow day". It's not nice to call someone suchia. I did some shopping at Trader Joe's last night. When I say shopping, I am talking about getting those Hawaiian BBQ chips. The line wrapped around the store, but it wasn't too bad. I made it to the cashier within 15 minutes. I walked over to Room Service for dinner with the DVL ladies. It was good seeing Vi and Bao after a couple years. TD, I got your text about a singles/speed dating in Vietnamese event. That's hilarious. Let's talk more. I am going to MGMT next week. Looking forward to it, Bre!
August 11, 2010
Why must they add new features and buttons to things? I cannot adjust to change. I feel badly for skipping out on KNT. After brunch, we will do doughnuts. Yay! The banh uot lady sold me five pounds instead of the three I wanted. She started to haggle with me and we agreed on a discounted rate. Next time if I want three pounds, I'll ask for one pound and she'll end up giving me three pounds any way. Chang's husband to be introduced himself to me for the first time. He has seen me chit chatting with his mom. C. Mai has a "bo nhi" who likes to pack her food for the long ride home. RI is being replaced by AC. Cass and I can do the pool thing while others can gamble. I don't know how people can stay up late and party during the week when they have work the next day. Call me old, call me responsible, call me boring, but don't call me Mary!
August 10, 2010
I almost done with this test step that requires beaucoup revisions. It is taking me more than a day to complete it. I have to get it done today no matter what. Jacq, you have too much time on your hands to be worrying about turtlenecks and v-necks. The boys look "chan doi"...forcing the twins to sit together in that chair! KNT, can't wait for brunch at Clinton St. I have tried eating there three times and the wait has always been one hour for two people. You want to do a table for 6? They are going to make us wait for 3 hours. We even tried to go at 11AM, but there is always a wait. So you and I are alike. We both have never eaten there and I don't think Labor Day weekend will be any different. It doesn't hurt to try again if you have the patience.
August 9, 2010
Susan, make sure to tell your friends to get there early. The bikes go fast. Leave Michelle alone. She's allowed to go on fancy vacations with her daughter. Besides, she paid for the whole thing herself. We taxpayers paid for her security detail just like any other visits whether domestic or international. Quit your complaining and focus your attention on someone else. I spent 8 hours locked up in the apartment working on the final project. I am 95% there. I just need to proofread and make some last minute edits. This is the last week of class. It's about freakin time! Cau Eddie sent me distorted clips of the twins sitting next to one another and hitting each other. Will they be fighting for the rest of their lives? I hope not. So instead of renting a house, we are shooting for a B&B now. I was not too fond of renting a house from a stranger on craigslist. You need to front a 50% deposit and signing a fake contract? I would rather pay a little more at a legitimate B&B and lose a bit of freedom in the house. Besides, we are going to be walking around town any way. Who wants to stay in the house all day? I wanted to take a picture of all the reddish orange bags across the platform at the Grand St. station. Every other person carried at least one bag. Only fancy stores have their logos on the bag.
August 8, 2010
I paid $14 for a bowl of ramen...in BROOKLYN! It's even more expensive than what I'm normally used to on St. Mark's. On top of all this, Dat's waiter friend was not even there. BooHoooo! As if the bowl of ramen was not enough, we stopped by a deli down the street for a pistachio muffin. Yes, you heard me right. Anything with pistachio is good. The short films were a mix bag of serious stuff and fluffy fun. Yes, I said fluffy fun. The last one was by far the most hilarious. We came back to wait on Ali and Jacq. A short cab ride up to HK, we met up with Mimi at her bday shindig. How do I get a terrace with a private entrance? A slice of pie is definitely required at midnight. The cab driver fell asleep at the light. I woke him up and asked if he could take Ali back to Wiliamsburg. He assured me he was okay.
August 7, 2010
I didn't accomplish much yesterday. People were bugging me left and right. After 50 emails, Anh Binh decided on Rhode Island. We can save AC for another time. Chi Tam and I met for lunch at Zaiya. The lunch rush was no where to be found. Expenses for my new eyeglasses were accepted by UHC. Remind me to not enroll in the flexible spending program. It's too much work to submit expenses for reimbursement. Give me a dedicated credit card instead. I have $94 for the remainder of the year. Jacq could not get her pay per view movie to work. Kyvy asked about our personal matters. The discussion turned sour and quite uncomfortable. Jacq could not determine whether the operator was a female or male. We ended up watching "Zoolander". A second cycle of the movie will be released in 2012. Summer Streets, here I come!
August 6, 2010
Let's thank the Lord it's finally Friday! Kagan is confirmed to be the fourth female justice to serve on the Supreme Court. Obama loves his ladies. The first two candidates he has nominated have been females. This will be the first time that three females serve at the same time. Since there are more women than men in America, I say we add two more females to accurately represent America. We are pow wowing over what to do for the last weekend in August. The guys want to gamble and the girls want a country getaway. We sneaked in a bottle of proseco into Pho Bang. Eating at 6:30PM is ridiculously early. A crazy man goes ballistic on his fellow employees. It's way too early to think about the holidays. Give me a break. Let me savor the last few days of steamy summer weather before we gear up for fall. I have nothing planned and rightfully so.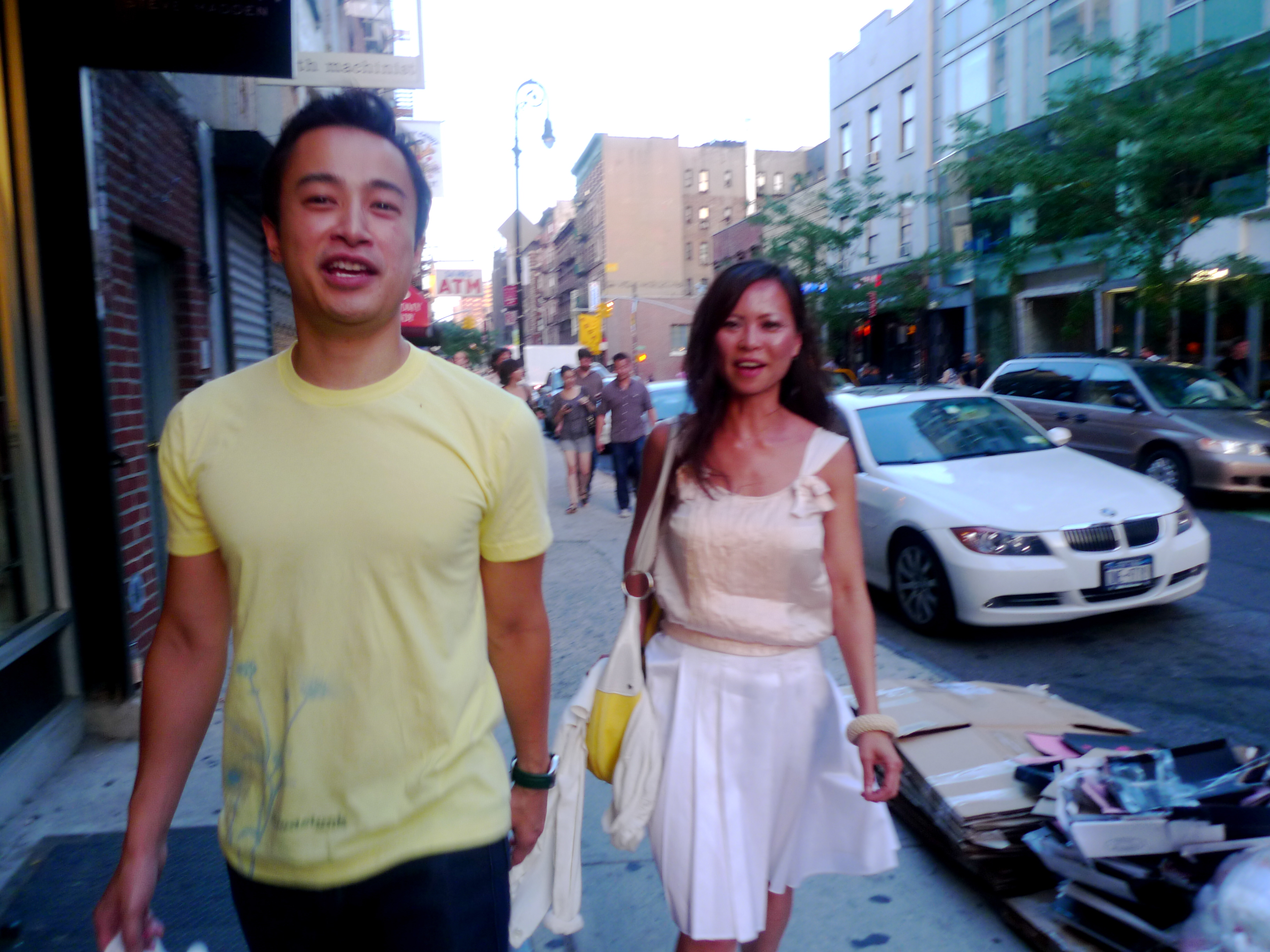 August 5, 2010
Another hot steamy day! When will it ever end? I ate way too much at Stand. The wait was well worth it though. Don't forget to try the chicken bites. It's super cheap and delicious. I managed to swing by Tammy's happy hour shindig before heading home. I missed Henry at Vanessa's. The last forum response was posted last night. Now it's time to tackle the final project. Maia and I are on opposite diets. I was able to see the twins through a video clip sent by Uncle Eddie. Carter smiled immediately when Uncle Eddie approached him. Carson didn't want to be bothered.
August 4, 2010
Okay, this is crazy but I have had two missed connections in the past two months. It's a long story, but this city is just too small. If I don't run into Ca$$money skateboarding down the street, I'm running into others. I met up with Meg, Joseph, and everyone else on Park Ave. Leong was correct about people not mingling. We tend to stay within our groups. The best thing to do is to come alone and not tell everyone else. It will force you to come out of your comfort zone. Dre, I'm glad we were able to reconnect. Mariah, so good to see you as always. We see each other every two years. LOL I was down on the Bleecker St station waiting for the F train last night. It felt like a freakin sauna. The sunburn did not help either. Happy Birthday, Tdanger!
August 3, 2010
After this week and next, I am home free. I will be working on a training program for an EQAA n Vietnam. Don't ask what that means. Just go along with it. Have fun with N, KNT! Chang, you didn't reply to my text. What's up? Ngoc, it was great catching up last night. I was knocked out by 10PM. The problem with sleeping early is you wake up early the next morning. I was awake at 5:30AM, but managed to get another 45 minutes in. I have a banana at the off-site office. I left it there since last Tuesday. It is sitting in a desk drawer. I bet there are flies flying all over the banana when I go get it today. So there's an Asian version of the Jersey Shore coming out. It takes place in K-town. Not all of them are Koreans. Dat confirmed that one guy is Vietnamese.
August 2, 2010
I found some old songs on my laptop. The songs remind me of the time when Carolyn and I drove down Belt Line to meet up with Marc and them. Carolyn asked why the female and male vocals take turns singing. She started to make fun of the "noises". It was hilarious. I still remember our conversation as if it was yesterday. I do miss Dallas some times. I met some really great people and I continue to keep in touch with most of them. Julie and the kids went back to Dallas. I should really make an effort to visit. I told my friends I would only visit if someone got married. It's been four years and no one has gotten married. It's the bad economy.
August 1, 2010
Happy Birthday, Mom! What do you do after coming back from Sandy Hook? Eat Popeyes fried chicken and biscuits. We even saved close to seven dollars for printing a receipt from their website. I managed to down one bottle of beer. Thank you, Dat and his family for taking us in. Now I'm feeling the effects of not applying a good coat of sunblock. I should have listened to A. Binh regarding the mirror. I now have speckles of sand underneath the mirror. Dehydrated from the sun, I stayed in to catch up on my sleep.